Online shopping done right.
Create a distinct shopping experience that sets your brand apart! Side-Commerce is a fully customizable, e-commerce interface that allows you to modify, create and configure business shopping practices across multiple channels and devices.
Schedule Demo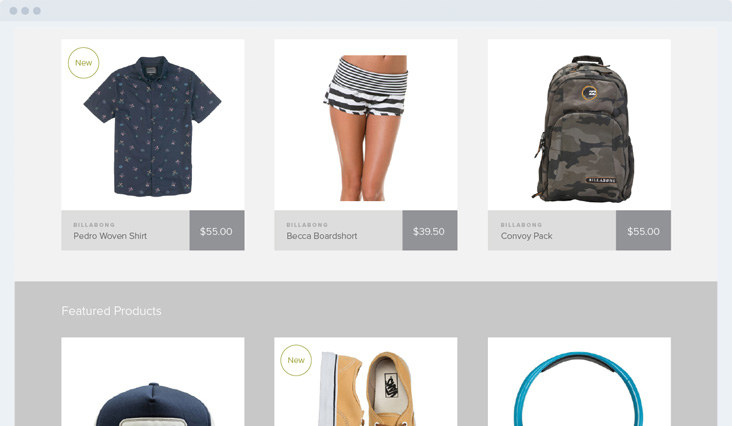 Responsive Design

Whether it's a tablet, mobile phone, desktop, or laptop, both you and your customers will see your site at it's best. Oh, and we're touch device friendly, too. We're kind of dynamic like that.

Various Product Options

With a vast amount of inventory space, there is no limit to the amount of products in your store. Options like SKU, price weight, image and stock level help to differentiate each product and can be edited in the system, hassle-free!

Connect Consumers to Products

Side-Commerce makes it easy for consumers to find exactly what they're looking for. Whether through an intuitive search or an easy to navigate sitemap, users have the ability to present consumers with products most relevant to them.

Increase Social Awareness

Give your shoppers the option to share their favorite products with their friends on Facebook, Twitter and Pinterest, all with a single click. Upon order completion, they can also share their purchase through their social media outlet of choice.

Create Promotions

Launch promotions easily and effortlessly with Side-Commerce. Create urgency, increase awareness and drive purchases with discounts like Free Shipping, BOGO and a wide range of other coupon codes to keep your customers happy and coming back for more!

Picture Perfect Images

Wow customers with hi-res product images that allow them to zoom in for a closer look before buying. To make it even easier for users, images uploaded are automatically resized to fit your store layout.

Comprehensive Dashboard

We provide a thorough sales analysis of your goods. We'll give you a snapshot of today's orders, your top product categories and items, where customers bought it and how, and your promotional activity.

Smart Cart

Since we're not about lost sales here, we developed a cart that's pretty genius. Unlike some carts, it knows if product is sitting there and reminds the customer to purchase it. Based on a customer's purchase, it can even recommend product.

Automated E-Mails

Set automated emails for new orders, password resets, "Email to a Friend", shipment notifications, order follow-ups and more, all managed and sent through the system.

Up-to-Date Inventory System

Someone buys a shirt on your site. Voila! Your inventory system and QuickBooks (or other accounting software) will automatically know about it. It's one less spreadsheet or program to update.
Clients Who Use This Product
Billabong

RVCA

Too Faced

Element

Sensationail

Xcel Wetsuits

Sector 9

Plan B